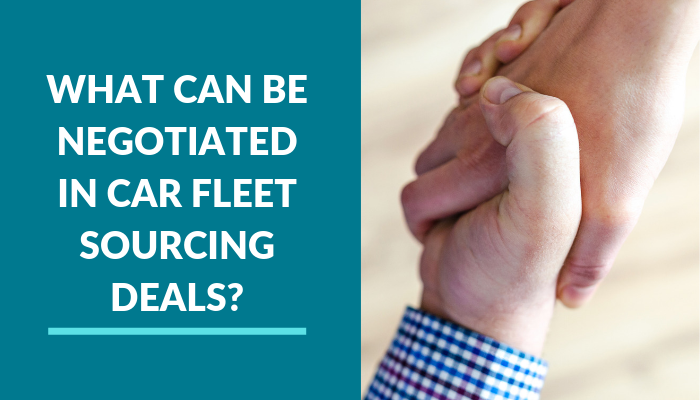 24 May

What Can Be Negotiated in Car Fleet Sourcing Deals?

Car fleet sourcing projects can become complex, lengthy and relatively challenging. To justify the effort it is essential that the outcome delivers a favourable return – the best possible return with no stone left unnegotiated, as it were!

When considering a sourcing project it is not entirely apparent how much opportunity for negotiation there will be. Viewing a project with a birds eye view does not suggest many areas beyond the normal, but when contracts are reviewed in granular detail it is very surprising how many opportunities there actually are.

We took the opportunity to look deep into the costing structure of a major client who operated over 2000 vehicles across 20 countries. It became apparent that almost 1 in every 4 euros spent on the fleet was outside of the original contract terms. It is an understandable misconception that fleet lessors revenue model is driven by their management fee and the margin they apply on the interest rate. However, there are 4 other cost categories used by lessors to generate significant levels of income; all of which can be negotiated with the right level of skill and knowledge.
Network Rebates
This is a key area for negotiation as, unless monitoring systems are introduced, the difference between the actual spend and the collected budget is generally left unsupervised. It should be assumed that most maintenance contracts end in a profit, which can be returned, shared or, most likely, retained by the lessor.
These rebates can cover:
Repair maintenance
Maintenance network
Tyres and glass
Movement, storage and refurbishment.
This category carries a number of risks for the client:
Budget maintenance costs can be overestimated, so any surplus not returned can result in excessive costs
Even if there is a share or return of this surplus it may not reflect the true cost if supply chain rebates are not factored in.
For recommended interventions see the Fleetworx EBook – Fleet Contracts: Avoiding Commercial Trapdoors.
Contract Deviation
If a vehicle deviates from its contracted mileage and/or term it can trigger a series of contact adjustments, often with punitive charges.
This category carries a number of risks for the supplier
Contact resets triggered by a vehicle running outside its pre-set mileage/term gives the supplier an opportunity to raise additional revenue through unfair recalculation.
It is difficult to measure and challenge pricing unless a clearly defined, auditable mechanism is in place
A poorly constructed excess mileage agreement can be expensive
Proposed agreements are nearly always stacked in favour on the lessor
For recommended interventions see Fleet Contracts: Avoiding Commercial Trapdoors.
Gain on Sale
Vehicle rentals are calculated using a combination of residual value (RV) and capital cost. At term end the vehicle is sold and can generate profit for the lessor if the RV has been underestimated.
This category carries a number of risks for the supplier:
Lessor sets the RV at an artificially high level to reduce the rental and win business
Lessor could make significant profit on vehicle resale unless this is shared or returned to the client
Costs of sale are typically deducted from sales proceed at an unreasonable level
For recommended interventions see Fleet Contracts: Avoiding Commercial Trapdoors.
Maintenance Spend
It is typical for lessors to set generous maintenance budgets that allow for worst case scenarios; creating a surplus.
The risk associated with this category:
An unmonitored approach to budget setting means the client invariably pays too much across the term of the contract.
For recommended interventions see Fleet Contracts: Avoiding Commercial Trapdoors.
Now Go Negotiate
If you need to negotiate better terms it is essential to enter your fleet negotiations in a position of strength. Understanding the opportunities to eliminate cost from the four categories listed above is one way to place yourself in a very strong position. But what other techniques and negotiating tactics can you employ to ensure your position is not weakened?
The Fleetworx insight whitepaper "Negotiating Skills and Tactics to Drive Cost From Your Car Fleet Category" is an essential read for anyone who has car fleet responsibility and needs to remove cost. Download for an insight into the nuances of fleet negotiation and ways you can negotiate your way to the best possible outcome.
Back to Blogs
Back to Case Studies List