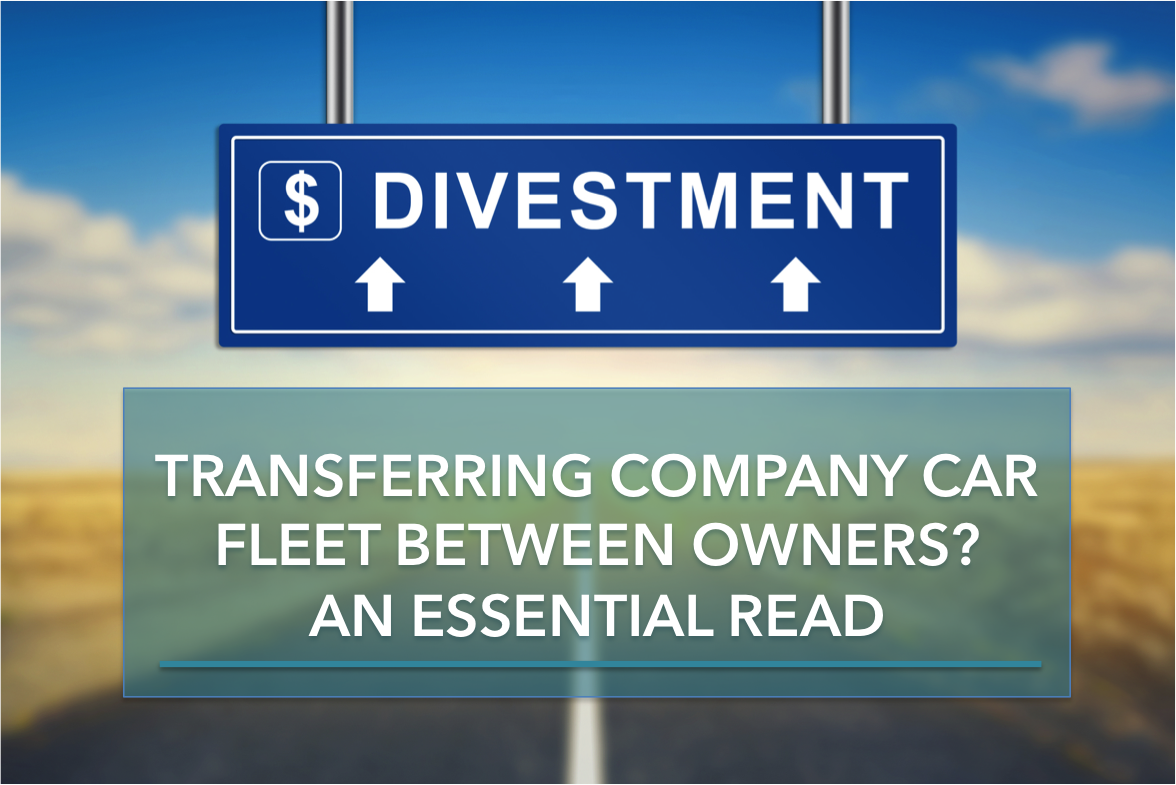 18 Jul

Transferring Company Car Fleets Between Owners? An ESSENTIAL Read

In the fast-paced, pulsating world of Mergers, Acquisitions & Divestments, company car fleet transfers between existing and divested businesses may appear a little, well, boring. Managers could be excused for considering the transfer of cars from one part of the business to a new company a simple formality, which is no more difficult than just "transferring the lease." Oh, if only. Yes the lease needs transferring, but this is by no means straightforward and in some cases can be downright difficult.

We have recently done this exact project for a large company that was divesting a previously acquired business via a management buy-out. If only we knew then what we know now! This project was such a learning experience for all involved that we thought we should commit the process to record. You can download the guide to company car fleet transfer here. One of the most frightening parts of the process was working with the divested business to secure CREDIT with, what would become, their new suppliers. Wow, this was a challenge. Even though a newly divested business can be born of good stock, it is still considered a new business in the eyes of the supply chain and therefore needs a credit rating to get the credit. And when you are talking about maybe 200 cars , at say£30k a car, that's a lot of credit: £6m/year to be exact. Phew.

In our case, the existing business, lets call them IT Wizards (our nod to commercial sensitivity), was divesting part of their business to new owners, lets call them IT Witches. IT Wizards needed to get rid of the company car liability for the 200 cars that were going to IT Witches under TUPE. They needed to push this through as the liability would remain with them until a lease transfer could take place. The suppliers have a contract of supply and are getting paid, so they don't care who pays it. So IT Wizards start the process of contacting all the suppliers to transfer the lease to IT Witches. Because the companies are pan-european, this was necessary in 12 countries and across many different suppliers. Now, back to the credit rating. Quite simply, as IT Witches was a new business, with no trading history, the suppliers were reluctant to extend credit. Challenging! So credit wasn't really an option for the countries with a larger operation. The next option was GUARANTEE. This can take a number of forms and can be provided by:
Existing business – so, to contextualise this – this option is for the existing business to provide hefty financial guarantees for a business that they no longer want to be involved with. Exactly. Not much of an option! Although it is unlikely that many original businesses would want to provide such guarantees, in our case IT Wizards actually did for the suppliers to IT Witches in France. However, and this is a whole other story, they changed their mind after a month and wanted to withdraw the guarantee but couldn't.
The Bank of new the business – this is actually the gold standard and is preferred by the supplier. However not only do bank charges make them expensive, the reluctance of the banks to deviate form standard contract language makes them quite inflexible and cumbersome . Because of this it is not uncommon for the guarantee language to be rejected by the supplier, starting a negotiation process of what is acceptable wording for each party; all the while adding to the time and resource allocated to the project
Parent of new business – depending on the structure of the new business this may be an option. However in our case the new backers were VC's and providing a guarantee like this was not what they signed up to.
So we found that getting a suitable guarantee was far from straightforward. It involved much to-ing and fro-ing between suppliers, clients, banks, lenders etc and no one solution became the norm across the business. Local differences and fleet structure played large roles in determining who supplied the guarantee and it was pretty much a bespoke solution for each country.
Where guarantees were actually unavailable, either the local bank was reluctant or unable, or the existing business felt it was a step too far, the next option was for the new business to offer DEPOSITS. As this exercise is all about new business, and new businesses need cash, having to release some of that trading cash as a deposit is not ideal. However it is sometimes the only option that is now available to get the business operational and get boots on the ground.
We are pleased to report that although this was a 6-month process, the leases were transferred in time using a combination of the above methods, depending on the requirements of the local market and the size of the operation in that country. The process was long and complicated but we shielded the companies from the pain as best we could. So, although managers may think that the lease can be "just transferred" we strongly suggest they read this and politely request they reconsider their opinion!
Back to Blogs
Back to Case Studies List