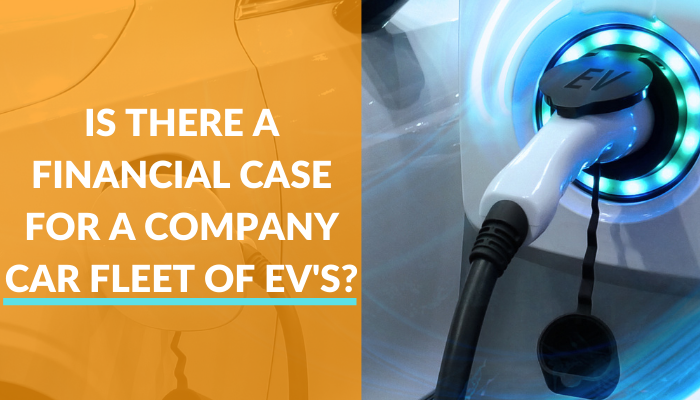 16 Nov

Is There a Financial Case for a Company Car Fleet of Electric Vehicles?

Electric vehicle adoption is accelerating at an unprecedented pace and the announcement that the UK is set to ban the sale of new petrol and diesel cars from 2030  means it may well pick up even more pace. But is there a financial case for a company car fleet of electric vehicles? The latest stats from the Society of Motor Manufacturers and Traders (SMMT) show that there are more than 164,000 pure-electric cars (BEV) driving UK roads at the end of September 2020. And when plug-in hybrids (PHEV's) are included, this number rises to 373,600. Pure electric cars account for 6.7% of new registrations, whilst adding PHEV's takes that number to 10.5%.

The demand for electric vehicles has suffered no ill effects from the Pandemic and the subsequent lockdown. Strong year-on-year performances of 110% in August and 287% in July are continuing a trend that saw EV's as the only sector that enjoyed growth as petrol and diesel markets both suffered significant declines. In 2014, 500 EV's were registered per month, now it is an average of 12,500 per month. And the EV is becoming the preferred electric power train, overtaking PHEV's as the preference of the EV driver.

The continuing demand for EV's has encouraged manufacturers to develop a broad range of models and body styles. In 2011 there were 9 electric vehicles covering 4 body styles:
City cars
Small family cars
Small vans
Sports coupes
As at Oct 2020 there are now 205 plug-in models available covering:
Superminis
Large family cars
Hatchbacks
Estates
SUV's
Executive models
Medium-sized vans
This broad range will almost certainly help the category grow at pace, as previous experience of new technologies shows that having a breadth of models and body styles is key to encourage strong uptake.
As the explosion in consumer choice equates to an extremely healthy uptick in sales, the charging infrastructure is also growing to service demand. There are now over 200,000 normal and fast public charging points across Europe, with over 12,000 charging locations in the UK, making 1 charging location to every 13 Battery Electric Vehicles (BEV). Charging times/practicalities and range remain key user concerns, indeed 50% of consumers would consider a BEV as a main car if its range increased to 200 miles, increasing to 90% if the range was 300 miles. Unfortunately to get over or even anywhere near 300 miles means coming to terms with a big price tag, with the longest range electric car currently on sale, the Tesla Model S Long Range , coming in with a hefty £77,980, although this does get you a whopping 379-mile range.
Although adoption is patently accelerating, and the consumer profile in the electric car market is moving from early adopters toward mass adoption, albeit slowly, it is the large price tickets that is the current handbrake to exponential growth, especially when considering the consumer need of features such as range.
However, although the high price tickets are not in doubt, if buyers were to look at the actual Total Cost of Ownership of an electric vehicle would it be a more attractive option? Over the last 12 months there have been many attempts at putting the cost of an EV into the context of its lifetime cost, but the most comprehensive study is from Leaseplan , who developed a framework to achieve a like-for-like comparison between EV's and their ICE equivalent.
The Leaseplan study is a particularly detailed look at the TCO of vehicles across 912 leasing scenarios. They took 4 car segments and compared 9 different leasing options for each of the 2 cars in each segment, and applied that across 13 countries, producing a detailed study of the 912 scenarios. To achieve an accurate like-for-like comparison, they included the same services in an operational lease across the 4 segments.
Funding
Repair and maintenance
Tyres
Insurance [comprehensive]
Replacement vehicle
Energy budget: fuel or electricity
As many vehicle -related costs vary according to mileage and contract duration, the vehicles were compared across 9 different contract scenarios:
Term in months: 36,48,60
Annual mileage [km]: 20,000, 30,000, 40,000
Countries
As factors such as local taxation and government incentives influence vehicle costs, it is important for a pan-European fleet to consider the cost comparison across all countries. Leaseplan included 13 European countries to their study, looking at the following vehicles:
Car segment B [small car] – Renault Zoe [EV], Peugeot 208 [ICE]
Car segment C [medium car] – Nissan Leaf [EV], VW Gold [ICE]
Car segment D [large car] – Tesla Model 3 [EV], BMW 3 series [ICE]
Car segment E [SUV exec car] – Audi E-tron [EV], Mercedes GLE [ICE]
After averaging the scenarios across all countries and comparing them within the same segment the study found that the average TCO for EV's is lower than for ICE's in 56% of cases. Of the 912 scenarios that were considered, 508 or 56% of them had a lower TCO for the EV.
Of the services considered, depreciation, maintenance, taxes and fuel cost are the main differences.
Taxes were -88% as Government support is available in many countries and the effect is visible in the tax costs.
Fuel was -54% as the average cost per KM of electricity is less than traditional fuels
Maintenance was -23% mainly as Ev's have fewer moving parts meaning less maintenance
Depreciation was +17% as the additional battery cost create a higher list price for EV's
The TCO also differs between countries, mostly driven by government incentives. In The Netherlands, 100% of EV vehicles are cheaper than their ICE equivalent, whereas this drops to 33% in France and 11% in Spain. Currently, the UK enjoy favourable taxation terms and purchase incentives, however, the SMMT has recently cautioned against the threat of Brexit "no deal" tariffs increasing the price of average EU-built EV's by up to £2,800, effectively cancelling out the UK's plug-in car grant.
As may be expected, the EV's have significantly lower costs when they are driven further and for longer, due to the lower running costs of EV's. With the exception of the SUV executive category, fewer miles and shorter leasing terms generally result in a reduction in the cost advantage of EV's, with the benefit swinging to the ICE: a factor of interest to fleet owners who need to understand how the dynamic of their fleet will impact the expected cost-benefit.
To learn more about the LeasePlan study and the considerations when electrifying a car fleet download the Fleetworx ebook "The Charge of the Electric Car"
Back to Blogs
Back to Case Studies List