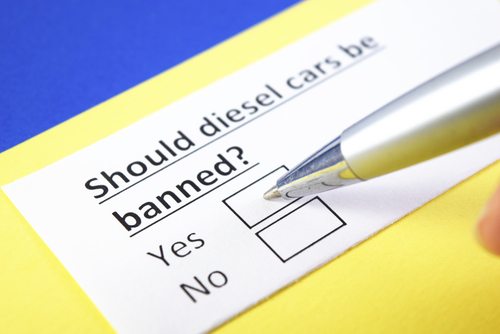 13 Apr

How the diesel restrictions will affect company car fleets

Now that we are in April, the month within which a High Court Judge declared Defra come up with a better plan for reducing air pollution in 6 cities (London, Birmingham, Leeds, Nottingham, Southampton & Derby) , plans for diesel restrictions and bans are gathering pace. The upshot is the announcement of a £12.50 charge for vehicles entering a London Ultra Low Emissions Zone in a petrol car not meeting Euro 4 standards and diesel vehicles not meeting Euro 6 standards (which City Hall suggest is most petrol cars more than 13 years old in 2019 and diesel cars more than 4 years old in 2019). As well as this there is a so-called "toxin tax" of up to £20 a day also expected to be introduced in "several other UK cities" (presumably those listed above).

But what does this mean for company car fleets, and the mobility of staff around the UK's major, and maybe not so major, cities?

The Thin End of the Wedge?
Although these charges represent the first steps toward reducing the impact of diesel emissions, whether this is the thin end of the wedge toward an outright ban is unclear. And such bans are not unknown. The mayors of Paris, Mexico City, Madrid and Athens have all confirmed they will ban the use of diesel-powered cars and trucks by 2025, citing alternative vehicle use, cycling and walking as their preferred method of mobility. A seven year run-up should be enough for companies in these countries to adapt their car fleet appropriately, and if they don't then, well, some medical reps are going to be awfully tired cycling their samples around inner city hospitals.

Indications of a hard stop on diesel in the UK are a little less clear, but pre-brexit legislation suggested that the UK is one of  Six European countries potentially facing hefty fines if it fails to reduce NO2 levels by 2020. And it is the NO2 that is the problem with diesel. Diesel cars were once revered for having lower CO2 emissions than pertrol, by virtue of the fact they are more efficient and use less fuel for the same mileage – less fuel should mean lower emissions. However it is now known that diesel cars spew out high levels of NOx (nitrous oxides and dioxides) which contribute to and exacerbate a number of health issues. A recent study by DEFRA suggested the number of premature deaths in the UK attributed specifically to NO2 at 23,500. So, there are new aggressive plans to clean up air pollution issues and it seems likely diesel cars will bear the brunt of the legislators.

7 questions to be considered
So what must car fleet stakeholders ask themselves in advance of these moves – What is our exposure to the regulations? What percentage of journeys are in potentially regulated areas? Do we begin phasing out diesel engines in newly contracted cars? What about grey fleet cars?
How exposed to these regulations is my car fleet?
Some basic analysis will highlight the number of diesel cars in the current fleet and the potential number over the ensuing 2 years as people change vehicles. The current restrictions will apply to Diesel vehicles registered before Sep 2015, which means they will be four years old by 2019 and most likely in the process of being replaced. Seemingly not much of a concern then for fleets operating with leased vehicles on a 4 year replacement cycle. However, what if the restrictions on diesels extend beyond charges based on Euro 6 and move toward total bans? What would be the exposure? How would it disrupt the mobility of the team?
How do I understand the journey profile of my fleet?
Understanding the exposure to the restrictions is essential to inform strategic choice on fuel types. But how it this achieved? Can existing records determine the journey profile of the fleet and the likely exposure, or would it be necessary to introduce telematics to the vehicles in order to gather a very detailed understanding.
How will this affect the TCO of running a diesel?
What considerations should be made when planning the vehicle strategy if the analysis reveals a large exposure to the regulations, for example many inner-city journeys and/or a large number of older diesel cash allowance and grey fleet cars within fleet (see below). Is the changed TCO of operating a diesel and absorbing regulatory charges more or less than the equivalent TCO of a petrol or ULEV car.
If my fleet is heavily exposed do I begin promoting alternative fuel types?
If indeed ULEV or EV cars are promoted how is the charging procedure and discipline managed. How will the vehicle range impact on the mobility of the team?
How will it impact on cash allowance and grey fleet vehicles?
The BVRLA suggest there are 11.5m grey fleet cars in the UK and 230,000 cars on a cash allowance scheme. Of the grey fleet cars, 30%(3.4m) are diesel and 70% (8m) are petrol, whilst the UK cash allowance fleet is 67% (154k) diesel and 23% (53K) petrol. With an average age of 8.2 years for grey fleet and 5.3 years for cash allowance, the tendency is for these vehicles to be older than any other vehicle segment used in business travel e.g. leased, rental etc,. As vehicles of a certain age are more likely to be impacted by the restrictions, the following shows the likely number of grey fleet and cash allowance vehicles that will be affected.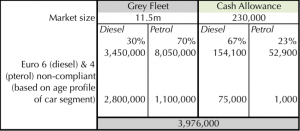 Figures from BVRLA : Getting to grips with grey fleet, July 2016
So this suggests 4m grey fleet and cash allowance vehicles will potentially be subjected to the charges. The challenge this presents is more than just the cost of the additional charges, it extends to the administration of the charges. Who becomes responsible for the charges? Is it the company who has asked an employee to travel into a regulated zone, or is it the employee who has chosen to operate a vehicle that doesn't meet the clean air regulation.
How will it impact cash allowance and grey fleet vehicle car selection policy?
Cash allowance vehicles
Possibly fairly straightforward for cash allowance cars – Cars must meet the Euro emissions regulations, which means older cars will no longer be allowed. Although if current trends are indicative of the car market mix in 2019, there will still be over 75,000 cash allowance cars in the UK that are non-compliant because of age, which means measures to address this will need to begin immediately.
Grey Fleet Vehicles
This is a more of a challenge as over 3.5m vehicles will be non-compliant, so where a company uses grey fleet as part of their mobility strategy the added burden of charges adds to the complexity of using grey fleet. This may become the catalyst to applying more control over grey fleet and understanding how it fits within the mobility strategy of an organisation, BVRLA suggest initiatives such as – analysing the nature of the trips made in grey fleet vehicles, introducing a travel hierarchy, implementing grey fleet alternatives such as daily rental, car clubs and/or leasing.
How will companies manage their CSR policy?
For years organisations have been working hard to reduce their carbon footprint and as transportation has been a large contributor to CO profiles, the diesel car was seen as one of the easiest ways to make positive changes. Now that diesel is under threat, how do organisations remain committed to their CO reduction targets whilst also acting responsibly toward clean air guidelines?
To discuss how the diesel restrictions may affect your company car fleet contact Graham Rees on 01926 353 300
Back to Blogs
Back to Case Studies List