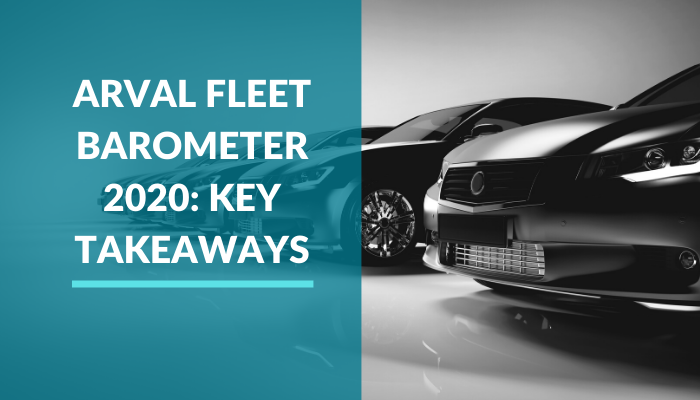 15 Jul

Arval Fleet Barometer 2020: Key Takeaways

The recently published Arval Mobility Observatory Global Fleet Barometer is one of the most eagerly anticipated industry research platforms of the year. This 16th edition was conducted pre-Covid19, but still holds huge value in predicting high-level mobility trends.

The survey covers 5600 fleet managers across 20 countries, 17 of which are in Europe, to which the quoted numbers refer.

Energy Mix

As may be expected, fleet energy mix is an area of rapid change. Across the 20 countries 62% of companies have already implemented or are considering it in the next 3 years; whilst 34% have committed to alternative fuel technologies and have already implemented at least one technology other than the internal combustion engine. Norway [48%], the Netherlands [47%], Belgium [45%] and Italy [45%] are leading the charge with significant number of companies already having implemented, whilst some laggard countries such as UK [41%], Germany [30%] and Spain [26%], are showing appetite for making the change over the next three years with above average consideration.

When asked which alternative drive trains are already used the usual suspects of Plug-in hybrid [17%], hybrid [19%] and battery electric vehicle [15%] are the most popular. The difference between their use now and the intent to use over the three-year time scale, plug-in hybrid [44%], hybrid [45%] and BEV [40%], suggests no one technology appears to be seen as the better alternative solution. This may change as BEV become more accessible and charging networks roll-out, however at the moment no singular technology is being hailed as the likely winner.

Environmental concerns are considered the main trigger to change, with 41% suggesting that limiting their carbon emissions and air pollution is a reason for implementing alternative fuel technologies. Fuel expenses [33%] is also key, whilst the halo effect on a companys' corporate image has a strong influence on the decision to change. Interestingly, only 19% are making the change to satisfy employee demand, which may of course change as the demonization of the internal combustion engine continues at pace.

The Fleetworx ebook "The Charge of the Electric Car – Do You Need to Future Proof Your Fleet" provides further information on what is leading the charge toward electrification, how the finances stack up and what considerations are necessary when electrifying a car fleet.

Business Mobility

Another area of significant interest among the respondents is that of mobility. For the purposes of their study, Arval include the following as mobility solutions:
Corporate car sharing
Employee ride sharing
Bike sharing
Other 2 wheel solutions
Public transport
Mobility budget
Mobility card
Mobility app
Private lease or salary sacrifice
Mid-term rental vehicles
Across Europe 61% of companies have already implemented at least one of the solutions listed above, whereas 74% are considering it in the next 3 years. Mobility as a concept is becoming increasingly more popular, but it appears to be infiltrating the mass movement of employees at a slower pace than was first anticipated.
Of course public transport and corporate car sharing [pool cars] are a means of mobility and are a welcome solution for reducing emissions and waste, however the use of mobility as a purist solution in the form of mobility budgets and mobility cards appears to be less integrated.
Mobility budgets and cards have some popularity in certain urban areas through continental Europe, as the geography, integration of the technology and cultural acceptance lends itself to these solutions, however only 13% of respondents are already using a mobility budget and 12% are using a mobility card. There is however a reasonably healthy intent to adopt mobility budgets [29%] and cards [27%] over the next three years. The relatively complex nature and administrative burden of employing these solutions possibly explains why it appears to appeal more to larger organisations, with only 18% of smaller organisations considering it over the next 3 years against 45% of larger organisations.
As the use of shared services is an integral feature of mobility solutions, the regulation around social-distancing is an important consideration for the short to mid-term uptake. However the CO2 benefits of some share services will mean these are likely to remain a key part of a mobility strategy in a post-Covid world.
If you are considering mobility solutions for your business then download the Fleetworx Ebook – "Business Mobility: Everything you wanted to know about mobility". This ebook lifts the lid on how mobility can help with employee movement, who are the main providers and how it can be introduced to your business.
To discuss your car fleet and how Total Fleet Category Management from Fleetworx could help you deliver fleet excellence contact Graham Rees on +44 [0] 1926 353 300
Back to Blogs
Back to Case Studies List