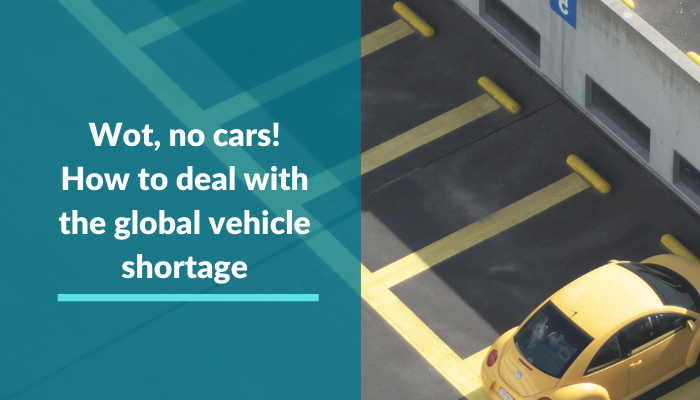 18 Mar

Wot, no cars! How to deal with the global vehicle supply shortage

Depending on your vehicle replacement cycle this may or may not have been on your radar, but if it is not already, then it will very soon. As a fleet operator you may need to brace yourself for a challenging few years of vehicle supply issues and re-negotiations.

Global vehicle manufacturers were struggling to meet demand during the second half of 2021 as production was strangled by a semi-conductor chip shortage – with some commentators forecasting supply is not likely to return to normal in 2022.

Indeed, the Boson Consulting Group expects the shortfall in vehicle production to last into 2024 before stabilising in 2025.  Although it is understood chip makers have pledged billions to expand production capacity it simply takes time for fresh capacity to come online; semiconductor fabrication plants costs $10 billion and take 3-5 years to build.

The day-to-day reality of this for fleet owners is a significant shortage of new vehicles, with many having lead times of 12 months or more. So, what can fleet owners do to work with this problem and ensure continuity of supply and sensible extension rates where vehicles are simply unavailable?
Challenges
1. Contract over-runs
Risk
If vehicle shortage puts pressure on existing contact terms and pushes vehicles beyond the pre-set term parameters then it is not uncommon for lessors to propose or even force through a contract amendment with fresh pricing. To let this happen uncontested can prove a risk for fleet owners, as the new pricing cannot always be audited and such contract adjustments have been known to favour the lessor unless adequately challenged.
Where a contract adjustment is not applied then letting a contact run beyond its original term usually results in that deviation being managed through an informal extension and excess mileage programme. These differ widely from supplier to supplier and country to country, and a poorly constructed excess mileage agreement can be expensive; and unless negotiated at the creation of the contract these agreements are nearly always stacked in favour of the lessor.
Intervention – Formally extend existing contracts – the cheaper option
To mitigate these potentially expensive over-runs it is prudent to formally extend any contract that will become over-term. Establish any direct costs/fees associated with contract resets and negotiate effectively to ensure a fair recalculation.
2. Hire-car shortage
Risk
Even the most efficiently run fleet still relies on hire-cars. Unplanned new starters, vehicles off the road, even global vehicle shortages –  all force the need for hire cars to keep people mobile. But even hire-car providers are not immune to the vehicle shortage issues, so they are becoming relatively scarce leading to issues around short notice or short-term supply and a subsequent increase in charges.
Intervention – Review brands and vehicle choice
Early intervention is key to outline parameters with your hire car supplier. There will likely be a need to compromise on brand and vehicle types so this needs to be built into policy and car list choice. Fleet stakeholders will need to be educated about the restrictions they must work under, but advanced notice and clarity should mitigate this.
3. Manufacturer Discount Reduction
Risk
Fleet owners who specify terms with specific manufacturers can enjoy favourable discounts for volume orders, helping them improve the specification of their car list without paying full value. Because of vehicle short supply manufacturers are now reviewing those support terms with a view to reducing discounts, potentially impacting the level of vehicle that can be provided or significantly increasing leasing cost.
Intervention – What can you do for the manufacturer?
To mitigate this potential risk it is important to begin conversations with manufacturers early, identifying scheduled vehicle deliveries and considering the cost benefit of delays. Should the existing vehicle contracts be extended until such a time that the supply issue is resolved, or do you need to consolidate your manufacturer options and bring more vehicles to the table of a single or dual manufacturer, making the opportunity more attractive for them and potentially cheaper for you.
4. Delayed deliveries
Risk
The human impact of delayed deliveries potentially forcing existing vehicle over-runs needs to be considered. Employee morale and satisfaction could be hampered by the extended wait for long-anticipated vehicles and the need to continue driving a vehicle for up to 5 years or more.
Intervention – Broaden the range

Introducing greater vehicle choice and broadening the range of vehicles available in the car list could improve the chances of employees landing their preferred vehicle. This would require a policy review and the involvement of several fleet stakeholders, i.e. procurement and HR as a minimum, but it could help ease the onward impact to employees of the vehicle shortage.
5. Impact on car list
Risk
Product scarcity usually results in increased prices, and this is no different for vehicle supply. The shortage of supply for many new vehicles will inevitably produce a price hike, which may well take many vehicles outside of policy lease limits. This could make previously selected vehicles beyond the lease cost limit of many employees, naturally resulting in disappointed team members.
Intervention – Is Total Cost of Ownership the way forward?
To reduce the impact of increased leasing costs it may be necessary to review the lease limits specified in the fleet policy, increasing them where necessary to retain vehicle choice. This may indeed satisfy the demands of the employees, but it will also increase the fleet budget. An alternative to using lease cost limits is to use Total Cost of Ownership (TCO) as a method of allocating vehicles. Rather than simply increasing the lease cost limit to retain selected vehicles, TCO calculates the full cost of running a vehicle, including elements such as fuel, taxation, repairs etc,. This invariably extends vehicle choice as the TCO method results in more vehicles falling within a cost limit, hence retaining breadth of choice and keeping cars available that would have been removed if lease cost limit was used to determine inclusion. This broadens the choice whilst containing costs – but inevitably, less efficient cars may well fall off the list as their TCO's are higher.
With vehicle supply shortage likely to extend in 2024 or 2025, this is a medium-term problem that needs to be addressed in the short-term. Getting to grips with the challenges now will save a lot of disappointed employees and a huge amount of cost.
Fleetworx are experts in negotiating and managing the company car fleet supply chain and can help your fleet introduce a program of activity that works with your suppliers to overcome these challenges. For a no obligation discussion about this and other fleet related topics contact Graham Rees at grees@fleewox.com
Back to Blogs
Back to Case Studies List